Racing Online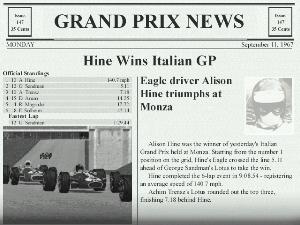 One of my best races ever, conducted online the day before my birthday among drivers on two continents. What a birthday present!
The Online Racing Experience
With the latest software updates (see VROC, below), GPL represents the absolute state of the art in Internet-based sim racing. No other simulation published to date can match GPL's awesome combination of realistic physics, large fields, high latency tolerance, connection stability, and assorted supporting features such as chats, lap times, results sheets, and full-race replays.
GPL allows fields of 15 to 20 drivers to race together. With that many human competitors, the racing experience is incredibly realistic and quite intense. Most people seem to be finding the experience of racing GPL with a large field of other enthusiastic drivers to be simply unprecedented in online racing. In many ways it's very, very close to the experience of racing real cars.
In these races, the drivers are often thousands of miles apart; in the newspaper at the right, you can see the names of drivers located in Norway, Spain, California, New Jersey, and New England! This capability means you can always find people to race with, any time of the day or night.
The Virtual Racers' Online Connection
Many racing sims with online capability don't give you any way to find other people who want to race. You have to send out emails to your friends, or hunt for people in a general chat, exchage IP addresses, and agree on a time to "meet".
Not so GPL. Thanks to Papyrus' vision and responsiveness to popular demand, GPL has the ability to integrate with third party programs to create something called a matchmaking service - and we developed a superb one. It's called the Virtual Racers' Online Connection, or VROC (pronounced VEE-rock) for short. VROC is your gateway into the GPL online racing community.
To find online GPL races, just go to VROC. Through a page on the VROC Web site or through a custom Windows program (which you can download for free), VROC will allow you to view a list of GPL races being hosted, and to join one of those races or to host a race yourself. VROC's Windows client, known as WinVROC, also incorporates a Chat window which allows you to interact with other GPL enthusiasts even when you're not racing.
VROC is a co-operative development effort between me, my brother Nate Hine, John O'Keefe, and Larry Holbert. The first version of VROC went live on October 16, 1998, and several hugely enhanced versions have been released since then.
At VROC you will find more information about the latest online racing software, including WinVROC 2.0, GPL 1.2, and the GPL Disco Fix. Together with GPL, these programs provide you with the absolute state of the art in online racing.
Online Leagues
Host Connections
Races with large fields must be hosted by machines with high speed connections to the Internet, such as cable modem or DSL.

When hosting via a 33.6 or 56k analog modem connection, GPL's limit is three or four players. Fortunately, on VROC there always seem to be plenty of races hosted via fast connections.

If you want to host yourself, and you have an analog modem, in order to host more than two or three players you need to make certain adjustments to your Windows DUN connection settings and to GPL's bandwidth.

See my GPL Online FAQ for details about these tweaks.

The VROC F2 Club is a great place to get started racing online. The emphasis is on learning. To help keep the racing closer, by mutual agreement the fastest drivers drive the slowest cars. Races are run at regularly scheduled times, and club servers are often available for pickup races as well. To join the club, go to VROC, click on Club, under Community. Also see the Cool Stuff page for more online leagues.

The American Sim Racing League is running a series for F2 cars with many American tracks (mostly converted from other Papyrus sims) on the schedule. This is a great place to get experience on the add-on tracks.

Eric Cote runs the SRM Challenge, a league with one-make series for assorted GP cars, and a series for F2 cars with two divisions to accomodate different skill levels. See Eric's Sim Racing Mag site for details.

The Grand Prix Legends World Series is an online racing series with four divisions, all for GP cars, designed to accomodate a variety of skill levels. The top division boasts some of the fastest GPL drivers in the world. Sim racing guru Michael Carver hosts the races over his cable modem, and acts as series administrator. See the Grand Prix Legends World Series for the rules, schedule, and results.

GPLonline is a Web site devoted to a worldwide racing league for GPL enthusiasts. The focus is on experienced drivers, although anyone can run. A unique feature is self-scheduling of race times by participents, which accomodates racers who need a flexible schedule. There is also a considerable amount of technical information at the site, and a number of add-ons and enhancements for GPL.
Other places to find people online
Before VROC, I hooked up with people on the Internet chat facility called ICQ. You can download ICQ for free from Mirabilis. It's well worth the download time.
Other places to look for GPL racers are the #gpl channel on IRC, and perhaps the Where to Race server on Kali.
Please read my extensive GPL Online FAQ for an extensive discussion of online racing issues and solutions.