The Future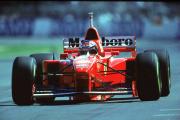 Internet-based real-time gaming is the wave of the future. Sony is building a worldwide network to support multiplayer gaming on the Playstation 2. I believe this technology and the promotional efforts which will surely accompany it is likely to trigger an explosion of participation in Internet-based gaming throughout the world.
Sim racing is already there. Papyrus' brilliant Grand Prix Legends incorporates 20-person networked play, setting a new standard which goes far beyond earlier racing simulations.
Many GPL drivers race with other enthusiasts all over the world on a daily basis at the Virtual Racers Online Connection. As high speed digital Internet links through cable modems and xDSL have become widely available in homes, it has become feasible to have multiplayer races involving many racers in widely divergent locales.
In races hosted over cable modems, DSL, and T1 links, racers - even those with analog telephone modems - race with people thousands of miles away, in locations as diverse as New England, Canada, California, Europe, Australia, and Japan.
As more and more homes are "hard-wired" into the Internet with high speed digital connections, and as more software developers grasp the technology needed to cope with the special demands of Internet-based racing, the situation can only get better.
The Vision
In early 1997 I wrote about my vision of the future of racing simulations. Today, with the maturing of Grand Prix Legends (specifically version 1.2) and the development of VROC, this vision has become reality.
Only the names of some of the cars are different; substitute Lotus-Ford for Williams-Mecachrome, BRM for Benetton, and Eagle-Weslake for McLaren-Mercedes, and you have it.
With the prospect of several new Internet-oriented simulations on the horizon, the full realization of this vision cannot be far away:
You're sitting on the pole at Monza in a Ferrari. On your left is your buddy, Linda, in a Williams-Mecachrome, linked in via cable modem from her home in Dallas.
Right behind you on the grid is your girlfriend, Lynn, in a McLaren-Mercedes. She is sitting across from you in the family room, her laptop wired into your household LAN. Out of the corner of your eye, you can see her look of intensity, her knuckles white on her Thomas Super Wheel. Her forearm muscles ripple as she rams the Mclaren into first gear, ready for the lights to go out.
To Lynn's left on the grid is her friend Robby, in the second Ferrari, linked in from her home in Vermont. Behind Lynn is Kate, of Chicago, in a Benetton, and next to her is Jo, in the other McLaren, linked in from San Francisco.
The air is filled with the sound of screaming V-10's...