Women in Racing


Many years ago I was at a sports car race at Lime Rock Park. An Alfa Romeo rumbled by. Fascinated, I peered at the driver to catch a glimpse of his eyes in the helmet. With a shock I realized he was wearing mascara and eye makeup! Then with another shock, I realized the driver was a woman! Then I saw her name painted on the side of the car.
This opened up a new reality for me, and shattered one of my assumptions about who drove race cars.
Since then, we have seen two women race at Indianapolis. Poor Tony Hulman had to figure out what to say instead of "Gentlemen, start your engines!" when Janet Guthrie became the first woman to qualify there.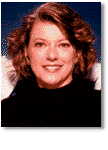 My favorite moment in racing at Indianapolis was in 1994, when Lyn St. James ( left) qualified on the outside of the second row, outqualifying then World Champion and egoist supreme, Nigel Mansell. I celebrated that one for months!
In 1994, Margie Smith-Haas became the first woman to win a professional road racing championship in North America when she became the champion in the American City Racing League.
Shirley Muldowney has been a great inspiration to me. She was the first woman to win a national drag racing championship, and she won her first at a time when it was unheard of for women to compete in drag racing. She had difficulty even being allowed to enter races at first simply because she was a woman. When she eventually won, she did it in Top Fuel, the most prestigious class of drag racing, against Done Garlits, one of the all-time great drag racers.
After she won her first championship, some people said Shirley won just because she was driving a good car, and her skill had nothing to do with it. She left the team, shed the "Cha Cha" nickname that her team owner had devised for promotional reasons, and started all over again from scratch. She created her own team with her son as chief mechanic, and she fought back to the top of her sport and won more championships, beating her former team owner. After that there was no more doubt about Shirley's talent. She has been called one of the greatest racers who ever lived.
There is a wonderful movie about Shirley's life called Heart Like a Wheel. Since the movie was made, Shirley suffered life-threatening injuries in a crash in which her car was completely destroyed and her foot was nearly severed from her leg, remaining attached only by an artery. She came back yet again and won again! What a woman!
Here are some links to sites about women in racing. I hope that soon there will be more!