Nate and Alison's Excellent Adventure
The Jabberwock, with eyes of flame,
Came whiffling through the tulgey wood,
And burbled as it came!

- Lewis Carroll
Through the Looking Glass
Welcome to my latest page of dreams!

In the spring of 2000, my brother Nate and I decided to undertake a project which I've dreamed of since I was very young. We decided to build a Cobra.

This Web site is the story of a dream which came to reality.
2007
Attempting to recover from a disaster.
2005
More on-track fun in 2005 here.
2004
Read about my on-track adventures in 2004 here.
2003
October 2003 - Some of the worst and some of the best of racing - and a major win! Loudon in the autumn. Also: the Cobra gets a shiny new Tremec transmission.
September 2003 - Front control arm mod yields frustration and triumph at Loudon.
Also, I've added handy Next | Previous links to each event report, and updated and reorganized the Tweaks section.
August 2003 - Bang! Pow! Zowie!! Interesting times back home in New Hampshire.
July 2003 - Power steering, a close call, and that magical lap at Watkins Glen!
June 2003 - Awesome times at Mosport, and lots of great photos! Thunder and glory in Canada! June 26: Updated with the official results.
May 2003 - I win my first ever COMSCC event! On my own with the Cobra for the first time, I win my class - and beat all the other FFR Cobras, too. Winning in the rain at Loudon.
2002
The End of an Exciting Adventure - Nate moves on.
November 2002 - Having won its first ever competitive event, the Strawberry Hill Racing Team Cobra wins its final one as well! Winter in the Mountains.
October 2002 - The balance improves even more, but rain dampens our challenge. I beat Nate for the first time since April! Loudon in October.
September 2002 - Woohoo!! We find the Holy Grail of road racing - balanced handling - and deliver our best time trial performance ever! Loudon in September.
August 2002 - Back to Loudon! Nate gets within a second of the class win, but now we've got severe power-on understeer exiting slow corners - of which Loudon has a lot! Summertime in New Hampshire.
Also, I've posted a page with details about our spherical bearing conversion for the Thunderbird rear spindles. This conversion made a dramatic difference in both handling and in grip.
July 2002 - This year we've been to three of the great circuits of North America, Mosport and Watkins Glen. Finally, the Cobra is completely free of handling vices and behaving like a real race car! Check out my reports on both Mosport and the Glen.
May 2002 - First time at Summit Point! We get blown off by the Corvettes, but we have a great time anyway. More info and photos here.
April 2002 - We've done our first event of 2002! We made some improvements over the winter, and they paid off with a 3rd place at Loudon in the ultra-competitive SPA class of COMSCC. More info and a photo here.
I've also added a page showing photos of some the trophies we've won, updated the Parts for Sale page with some more parts Nate found in his attic, and added a couple of photos taken at the NERC last year.
March 2001 - Since building our Cobra, we've acquired a number of parts with we are not using and which we are now offering for sale. Details here.
The Year 2001
December 2001 - I've put together a collection of reports and stories about the events we've run this year, including the impact of various changes we made to the car and the emotional highs and lows of the season. I've added a report on our final event of the year and our results in the COMSCC championship. Go here.
Cobras at Loudon: The Video!
October 2001 - We've now got a video of our car thundering into turn 1 at Loudon. Woohoo! you can see the new suspension at work.
The Suspension Project
October 2001 - We spent the summer of 2001 doing a major rework of our Cobra's suspension.
The results are extremely satisfying, both in terms of ride and handling on the street, and feel - and tangible results - on the track.
Read more about the Suspension Project and check out a ton of photos!
November 2001 - After watching the video, we re-measured the rear motion ratio, which resulted in a decision to switch to much stiffer springs in the rear. Go here for details.

Throttle
October 2001 - By popular request, I've added photos of the throttle modification Nate made to make the throttle more progressive. This makes the car much easier to drive smoothly, especially at low speeds.

Finally! Color!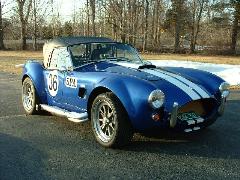 April 2001 - The Strawberry Hill Racing Team's Cobra has lost the drab gray appearance of its original gelcoat finish. It now has a gleaming new Viper blue and pearl white finish by Jay Berry of Jay's Rod & Custom.
Go here to see some nice photos of it completed, and here for more photos of the painting process and top installation.
And yes, we've now got a name, the Strawberry Hill Racing Team, named after a picturesque hill near Nate's home, where we built the Cobra.

The Hine Cobra is a Winner!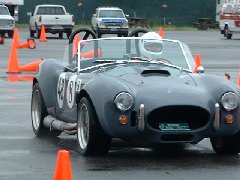 August 2000 - Four days after its tires first touched asphalt, our Cobra won its first event. In the photo at left, Nate thunders out of the last turn on the way to his trophy, one of four we would take home from this event.
Read more about it and see more photos on the New England Replica Challenge 2000 page.

November 2000 - We've taken home trophies the next two events on our schedule, and had a blast at Lime Rock at the end of the 2000 season.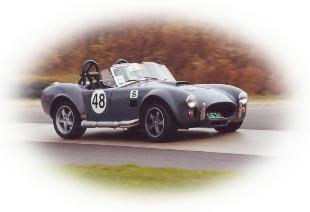 In the photo at right, I'm hurling the car through the exit of Big Bend at Lime Rock.
See the Events page for more details about the events we've run so far.
Tweaks
I've started a Tweaks page detailing the modifications we've made to improve the Cobra's drivability and usefulness. The drivability tweaks have made a huge difference in how enjoyable the Cobra is to drive on the street, and I think they will make us faster on the track too.

From Dream to Reality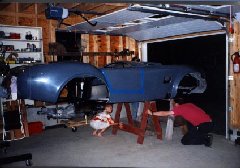 June 2000 - I've always loved Cobras, starting with the tiny blue 1/32 scale Revell Cobra slot car that was my first race car. When I was young, the firebreathing Cobras and their descendants, the Cobra Daytona coupes and the Ford GT-40's, were the most exciting race cars in the world. They brought the fight to Ferrari and won, showing everyone that American sports cars could beat the best there was.
The 427 was the ultimate Cobra. Ken Miles drive one from zero to 100 mph and back to zero in 13 seconds. Celebrities were snapping them up. Even comedian Bill Cosby bought one, and immortalized it in a wonderful routine on one of his comedy records.
There's something about that shape that has endured for over three decades. The car it was derived from, the AC Ace, was not a pretty car, and yet somehow the Cobras, especially the 427, achieved a timeless beauty whose appeal is as strong today as it was in 1966.
Sensual, graceful ... yet brutal.
In the garage outside the window where I sit today, that timeless shape has begun to take form.

Click to subscribe to hine-cobra mailing list