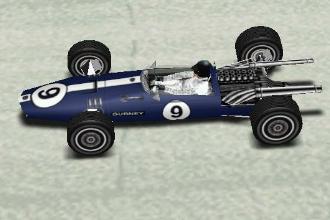 "I am an artist; the track is my canvas, and the car is my brush."
- Graham Hill
The year is 1967. The cars are monstrously powerful, extremely light, and the tires are so hard that a single set will often last three race weekends!
Brakes are terrible, forty gallons of volatile gasoline surrounds the driver - contained by nothing more than a thin skin of fragile aluminum - and there are no seatbelts.
The circuits are breathtakingly beautiful, supremely challenging, and brutally, lethally dangerous. Almost forty percent of the drivers on the grid today will eventually die at the wheel of a racing car.
It is the Golden Age of motor racing, and you are at the wheel.
---
If you're new to GPL, please see my GPL Survival Guide!
2009: For my blogs and other sites, go here.
The Phenomenon
Over four years after its release, Grand Prix Legends stands alone among all racing simulations and games as the most uncompromisingly realistic simulator of race car dynamics - and arguably the most rewarding consumer racing software product - ever published. Even after all this time, people are still discovering GPL and joining the GPL online racing community, a phenomenon unheard of in the gaming world.
Acclaim continues to roll in from many quarters. Though some early reviews were critical of GPL's hardware requirements and its steep learning curve, today there is nothing but praise for this brilliant simulation.
One of the world's best race drivers, the editor of one of the world's most prestigious racing magazines, and a prominent authority on computer gaming agree:
My favorite games right now are ... GP 2 (Grand Prix 2) and GP Legends--they are awesome!

- Juan Montoya
Email Interview

Following my mention of the Grand Prix Legends computer game, we have been swamped by letters about it.

Properly equipped... [GPL] is the most thoroughly researched, brilliantly conceived and thrilling PC game I have ever played. Your set-up options are limitless, your room for improvement without bounds.

- Andrew Frankel
MotorSport
February 2000

You could have knocked me over with a feather when I experienced the difference that 250 MHz of additional processing power made in this game! [And] what a difference a steering wheel makes to a true racing simulation! This couldn't be the same Grand Prix Legends that I had played half a year earlier...

You have to experience it hands-on. All manner of physical forces are being modeled in this simulation: sway, drift, inertia, bounce, stiffness, draft, resistance, etc. Somehow, Papyrus uses the senses of sight, touch, and even sound to convey these forces.

Grand Prix Legends is a lost treasure, hitting the market at a time when the hardware of much of its potential market wasn't really capable of doing it justice.

The fire that I now have for this game is unprecedented in my 19 years of computer and video gaming. I'm ... consumed with the game ... No matter what track I'm at, nor what position I'm in, Grand Prix Legends has me on the edge of my seat.

- John Cauthen
Digital Sportspage
For more, see my Press page and rec.autos.simulators.
The Mission
This site is an assemblage of wit, wisdom, and passion, born of seven months' experience as a beta tester on the most uncompromisingly realistic racing simulation in history. My goal is to bring you everything I have learned about Grand Prix Legends that might help you enjoy this wonderful sim to the utmost.
The information I gathered during the beta period has been fortified and expanded through many months of participation in hundreds of Internet-based races at the Virtual Racers' Online Connection, and through the contributions of many readers and GPL enthusiasts.
If you're new to Grand Prix Legends, I think you'll find my GPL Survival Guide to be an invaluable resource.
Once you've read the Starter Guide, see the pages about Add-Ons and car Setups. Finally, there are the FAQs - the heart of this site - with massive detail about every aspect of racing GPL alone and with other racing enthusiasts. If you read the Starter Guide and the FAQs, you'll be a good way towards getting the most out of GPL.
This site is not as pretty as it might be, but there is a massive amount of information here, and I feel that a lot of that information could make a real difference in how much you enjoy this fabulous sim.
Other sites are prettier; my priority is to deliver the goods.
The Goods
The Future
At the moment, the future of open-wheel simulations from Papyrus is unclear.
For a glimpse of what might be possible if a Gand Prix Legends 2 ever came to be, you might like to read an excerpt from an article by Pete Lyons about Ronnie Peterson in a Lotus 72, in qualifying for the Argentinian Grand Prix in 1973.
Even now, reading this article gives me chills.
Eagle Woman Home Page | Eagle Woman's Racing Sims