Introduction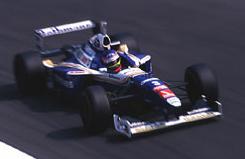 There are many computer-based racing games on the market, but they can be broadly divided into two categories: arcade-style games, and realistic simulations, the goal of which is to create a realistic racing environment and provide an authentic racing experience. My interest lies entirely with the latter, so I will leave the discussion of arcade games to others.
One software company has established itself as the leading racing simulation developer in the world. Papyrus, now part of Sierra, has created more serious racing simulations than any other company.
In October, 1998, Papyrus dramatically advanced the state of the art in racing simulations with the release of the sensational Grand Prix Legends (GPL).
Papyrus' history is stellar. The company released the ground-breaking IndyCar Racing II (ICR2) in late 1995, NASCAR Racing 2 early in 1997, and included a special 3D-enhanced variant of ICR2 with several Rendition-based 3D video accelerator cards.
ICR2 was re-released in December 1997 as Papyrus CART Racing. Despite the fact that it is three years old - an eternity in the fast-moving computer game industry - this sim remains the best available realistic simulation of CART's Championship Cars.
An excellent release called Formula 1 Racing Simulation (F1RS for short) in late 1997 earned Ubi Soft a place among the elite company of realistic racing sim developers.
SODA Off-Road Racing, by Software Allies (in cooperation with Papyrus/Sierra) also joined the ranks of excellent realistic racing sims in the fall of 1997.
Microprose/Spectrum Holobyte released the superb Grand Prix 2 in the summer of 1996, but it has sadly been withdrawn from store shelves as of the end of 1997.
All of these sims provide incredibly realistic racing. All of them also allow racing against a friend, via modem or null modem.
F1RS, SODA, and NASCAR Racing 2 allow racing against up to 6 to 8 real live opponents via an IPX network. Third party software allows racing in these sims against human opponents on the Internet. You can race against people anywhere in the world - and I've done it!
These pages are intended to provide an overview for those new to racing sims, and also provide information of interest to experienced sim-racers.
If you would like to race with me via the Internet or modem, I've included information on how to do so.
If you're browsing in 640x480, or with older browsers, you might want to peek at my hints page.
The major sections of this site include reviews of the major racing sims, and "how to" information which I hope you find makes it a little easier for you have the best possible racing sim experience.
Also, I've described my vision of the future.